Why doesn't glyphosate work well on field horsetail?
Field horsetail has a hard, waxy cuticle stem with high silica content that makes it hard for glyphosate to penetrate into the plant. On average, 90% of their biomass is below ground and present as underground rhizomes. Above ground herbicide applications can offer suppression, but are not effective at killing the high-energy rhizome masses beneath.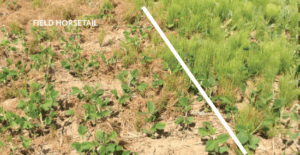 Image description: Top growth control of field horsetail when glyphosate (360 g/L concentration) was applied at 6 L/ac compared to the unsprayed strip (right). Image source: University of Guelph
What chemicals work on field horsetail? 
Actives that suppress field horsetail include*:
Group 4:

fluoxypyr

, MPCA, 2,4-D, clopyralid, 2,4-DB

Group 6:

 bromoxynil

Group 9:

glyphosate

Group 10:

 glufosinate

Group 11: amitrole**
Group 14:

carfentrazone

Group 20: dichlobenil
Group 27: 

pyrasulfutole
*Note that some of these actives are listed on product labels while others are anecdotal from our experience.
** Amitrol 240 (the only product in Western Canada that contains amitrole) is not longer manufactured.
Best stage to spray my herbicide?
Research studies suggest that the most consistent control of field horsetail occurs when the plants have reached a 20cm or greater height. This is when the weed has fully developed vegetative shoots. With typical seeding dates and weather conditions, this stage likely will not occur until in-crop.
What products should I tank mix? 
If you are dealing with field horsetail in a cereal crop, MCPA is the most effective additive. Corteva has a variety of products with field horsetail listed on label that can be tank mixed with MCPA. Bayer's Infinity and Infinity FX also help to suppress the weed in a cereal year and can be mixed with MCPA.
In canola, adding clopyralid to your glyphosate or using by itself can help suppress populations. If there are heavier field horsetail patches, LibertyLink or TruFlex varieties are recommended as the 0.33L/ac (180g ai) rate of glyphosate is not as effective as a pass of Liberty or higher rate of glyphosate.
Other ways to reduce my field horsetail populations?
Tillage will offer temporary control, but it is not a long term solution. The rhizomes of field horsetail go deeper than tillage implements can reach, offering brief results. Caution with tillage should be used as breaking apart the rhizomes can spread the weed further into the field. If you decide to till, optimal timing is early spring, or late fall.
If the rhizomes lose connection with groundwater, the weeds will eventually fade away. This is not a feasible strategy to use, but explains why populations decrease in drought years.
In short, field horsetail is a hard to control weed.