FCC Young Farmer Summit
March 1 @ 10:00 am

-

3:00 pm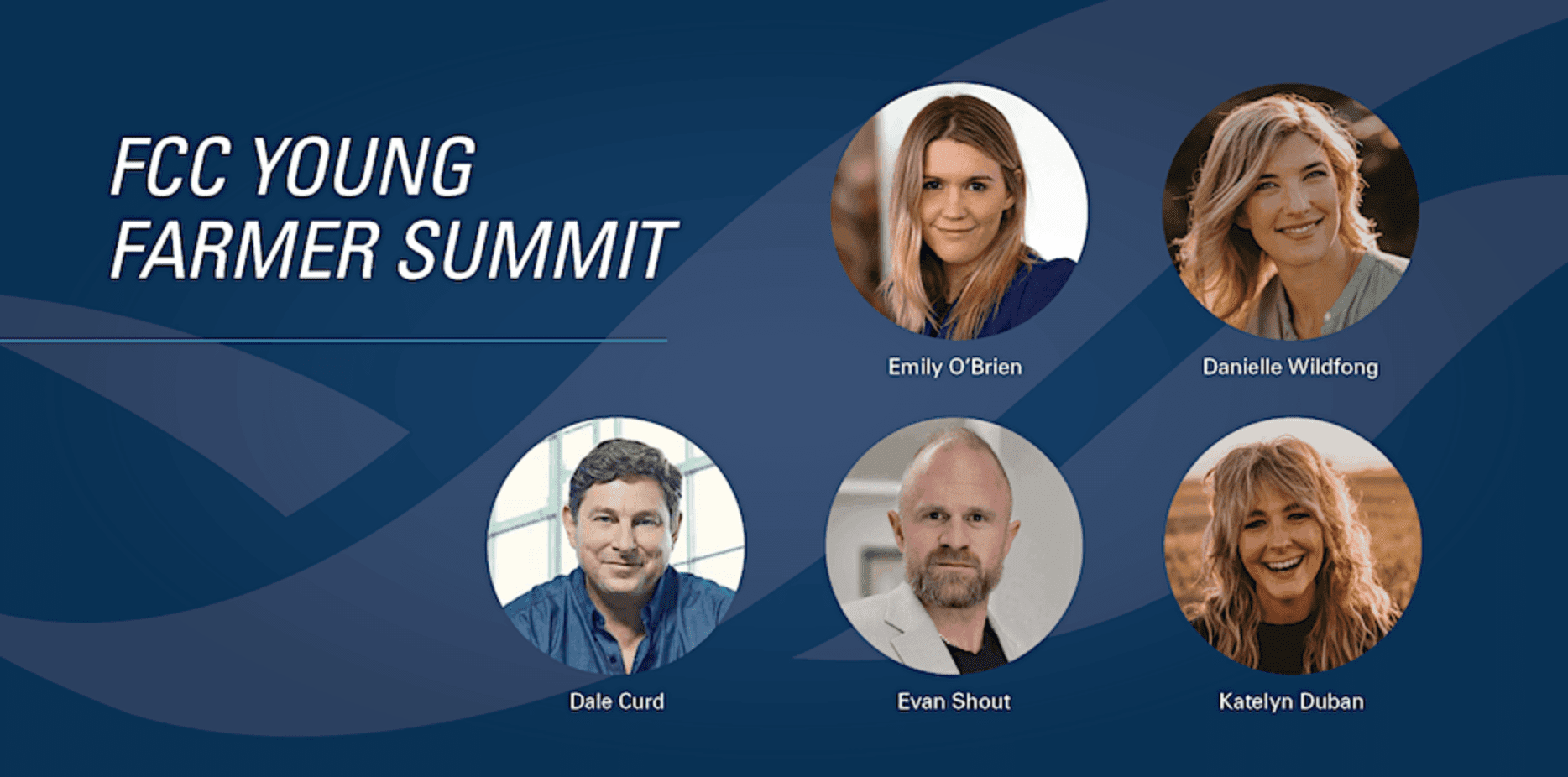 The FCC Young Farmer Summit is a free event for anyone under 40 involved in agriculture and food. Get real-world advice from engaging speakers, network with peers and take control of your business journey.
Agenda
10:00 am – Kickoff with emcee Katelyn Duban
10:10 am – Dale Curd
11:10 am – Evan Shout
12:00 pm – Lunch
1:10 pm – Welcome back
1:15 pm – Danielle Wildfong
2:15 pm – Emily O'Brien
3:00 pm – Conclusion and networking reception (cash bar)
Featured speakers:
Event hosted by Katelyn Duban
Dale Curd: Why Aren't We Connecting? The Keys to Collaborative and Effective Teams
Dale Curd has spent his life listening deeply and empathetically. In this talk, he outlines key steps to ensure we are connecting better as teams – from active listening, stronger questions to different body language, he has the tips, tricks and research to lead to immediate outcomes.
Evan Shout: Young, Broke, and in Love: How to navigate financial risk in farming
Today's primary producers face several decisions each day that could have a material effect on profits and operations. They have to tackle financial topics such as working capital, cost of production, and margin efficiencies, as well as operational complexities such as human resources, machinery optimization, and succession and transition. How do young farmers today make decisions in this volatile market? We will take you on the journey of risk mitigation across many aspects of farming, demonstrating "boots on the ground" solutions to everyday problems. You'll learn how financial success is linked to team members, and how to find strength and freedom in the theory of "Young, Broke, and in Love."
Danielle Wildfong: Relationships are the new bottom line at your farm
Relationships can make or break a family farm; at core of all conflicts lies an imbalance of love and respect, trust and honesty, or control and power. We will explore the most common challenges in family business and learn how to build relationship equity in your family business and protect what's most important to you.
Emily O'Brien: Entrepreneurship & Emotional Profit
The hardest part about creating your own business is getting started. Fear leads to doubt, doubt leads to excuses and excuses lead to failure before you even begin. Emily O'Brien started Cons & Kernels (now Comeback Snacks) in prison, without access to the internet, without the ability to test her market, and a consumer base that might be apprehensive about doing business with a convict. Learn how she stayed determined and created a business that provides her emotional profit by helping others.