Farming and Mental Health with Dr. Briana Hagen
January 31 @ 12:00 pm

-

1:00 pm

Free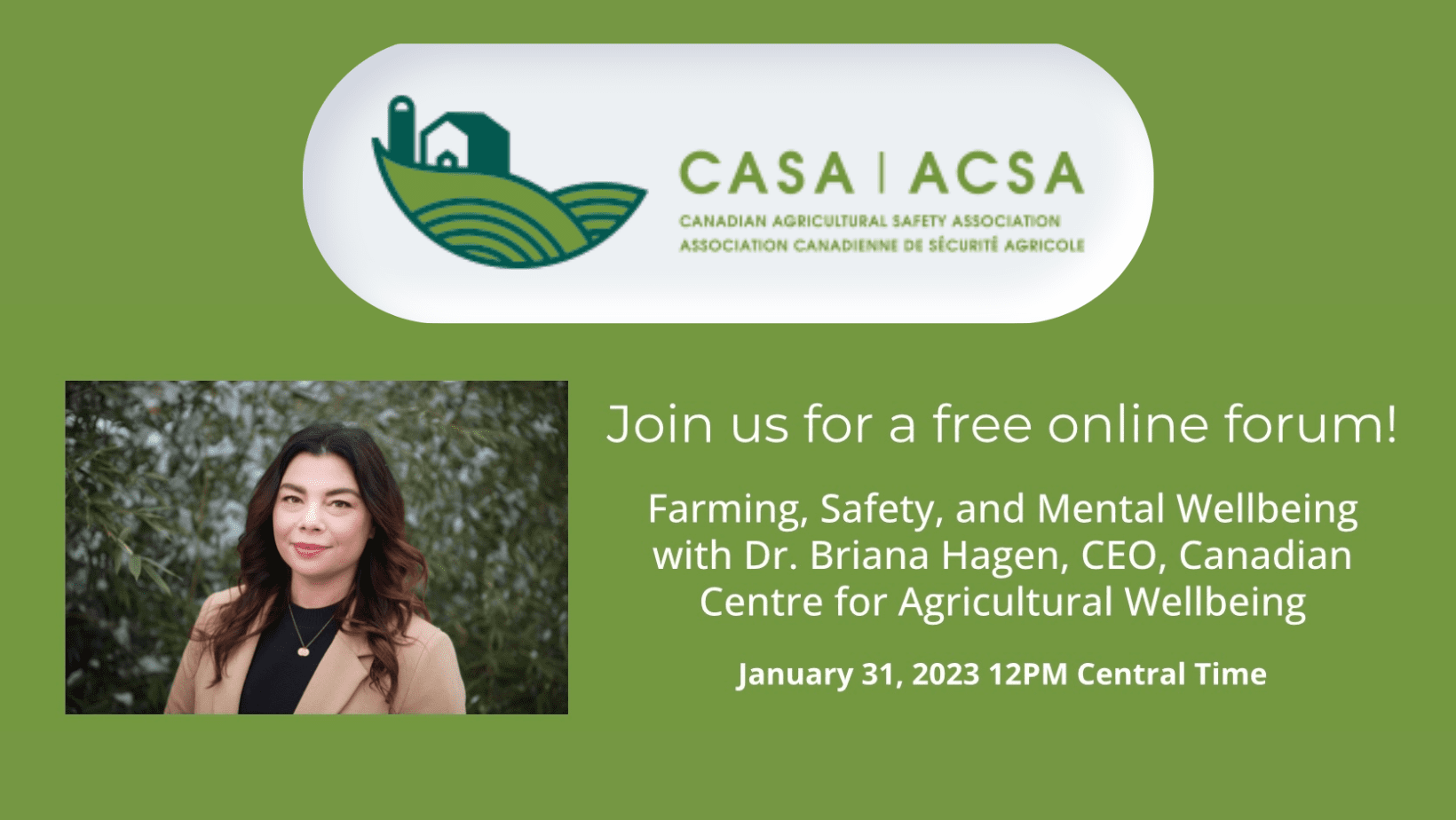 Mental wellbeing and safety are inextricably linked. Dr. Briana Hagen will bring insight and information on the launch of the newly launched Canadian Centre for Agriculture Wellbeing, the latest mental health research, and discuss the importance of understanding mental health and how it relates to farm safety.
About the speaker, Dr. Briana Hagen:
Dr. Briana Hagen is the Chief Executive Officer and Lead Scientist for the Canadian Centre for Agricultural Wellbeing. After completing her Master's of Science in Community Health and Epidemiology, Dr. Hagen completed a PhD in the department of Population Medicine at the Ontario Veterinary College at the University of Guelph. Using both survey and qualitative data, she examined how farmers and their farms are impacted by mental health outcomes, with a focus on perceived stress and the barriers and facilitators of help-seeking for farmers. Dr. Hagen is passionate about collaborative research approaches and building strong partnerships with the agriculture community to co-design research projects and mental health programming. After completing her PhD in July 2020, she completed a two-year Mitacs Elevate Post-Doctoral Fellowship to continue her investigations around farmer mental health in Canada and expand access to 'In the Know': mental health literacy training for Canadian agriculture, which she co-developed. Dr. Hagen has won several awards for this work, including the 2020 Brigid Rivoire Award for Champions of Agricultural Mental Health, the 2021 Research Achievement Award from the International Society of Agricultural Safety and Health, and the 2022 University of Guelph Innovation of the Year award for the development of 'In the Know'.